What is mosaic tile?
3 min read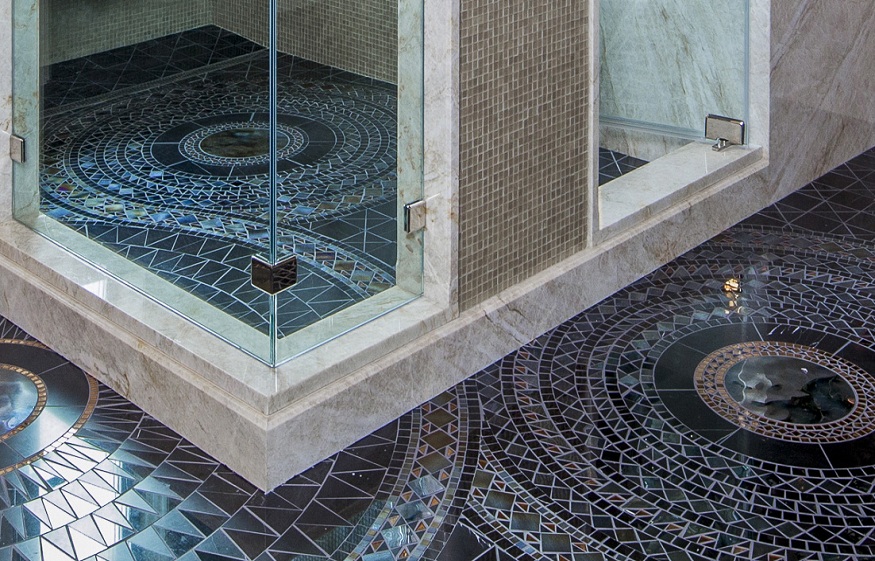 Mosaic is an alternative to traditional tiling. It has the same advantages since it is resistant to wear, stains and humidity, but it is made up of smaller tiles assembled together. These can form patterns and personalize a room according to your desires, whether they are affixed as decorative elements or on a large surface.
In glass paste, mother-of-pearl, marble, stone, precious glass or stainless steel, this coating can be installed in all rooms of the house, even the bathroom or outdoor spaces.
Mosaic
What are the different types of mosaic tile?
The mosaic can be laid as a floor or wall covering, indoors or outdoors, depending on your needs.
On the floor, mosaic is a good compromise compared to tiling. More original, it offers vast aesthetic possibilities and allows you to let your creativity speak.
Mosaic floor tiles can be used throughout the home. For the bathroom floor, it is recommended to choose a suitable material, such as bathroom pebbles or marble.
The wall mosaic is made up of very small tiles, also called tesserae. It sublimates the walls of a hallway or toilets. It is the ideal coating to delimit several spaces in the same room or to highlight certain elements such as a credenza in a kitchen or a frieze in the bathroom.
Special swimming pool mosaic
For a concrete swimming pool construction or renovation project, it is advisable to opt for a special swimming pool mosaic, in the color and pattern of your choice. The swimming pool mosaic is laid inside the basin with glue and antibacterial and water-repellent joints.
mosaic bathroom
The bathroom mosaic is designed to cover the floor or walls of wet rooms. It resists humidity and has better durability, provided the space is well ventilated. There are specific models for the shower, if for example you want to design a walk-in shower, by definition tiled on the floor and on the walls.
Thickness and relief
First, pay attention to the thickness of the mosaic. This is what will determine the relief it will give to the piece.
Materials available
Photo of mosaic tile
The mosaic is available in various materials:
The glass and glass paste models are appreciated for their resistance to humidity and their ability to restore light. They are therefore suitable for the bathroom.
For its part, mosaic tiles in porcelain stoneware or enamel are timeless.
The pebble tiles create a Zen atmosphere.
It will be ideal as a kitchen mosaic tile. Resistant to humidity and household products, it can be installed outside, in a summer kitchen for example.
What shapes and styles of mosaic tiles should you choose?
Photo of the mosaic tile
The mosaic gives way to total creative freedom.
The decor is infinitely customizable to adapt to all types of interior.
Photo of a mosaic wall tile
Mosaic in integral or partial coating?
First of all, you will have to decide if you want to make a full or partial coating:
In integral covering, the mosaic will entirely dress the room: hammam to be tiled, shower…
It can be a pattern, patchworks in a bedroom, a wall or floor inlay or even the personalization of a countertop, a bathtub descent or a WC corner.
Choose one or more vibrant or more dramatic colors that give character to the room:
In terms of effects, here too you are in charge! Plain on an entire section of the wall, shaded to give volume to a small room, two-tone to bring a touch of fantasy, everything is allowed. Some tiles exist in different finishes (matte, shiny, iridescent, pearly, etc.) to bring an additional touch of aesthetics along a molding or skirting board.