A Guide to Finding Ideal Shower Column for You
4 min read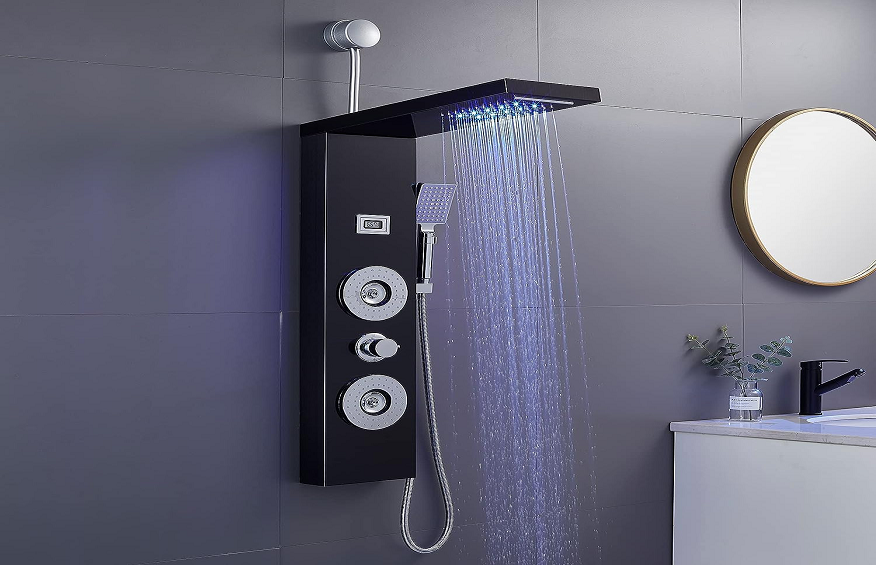 In the past, bathrooms were primarily functional places only intended for use. However, technological and design developments have created exciting new opportunities for repurposing our bathrooms as visually beautiful and practical spaces. The shower panel is one noticeable element that helps to attain this equilibrium.
The enormous selection of alternatives on the market may seem intimidating and confusing if you're new to the world of bathroom modifications and want to improve the aesthetics of your bathroom. But do not worry; you are in the proper location. In this post, you will come across some useful ways that will enable you to choose a shower column with the assurance and knowledge of an experienced specialist.
What Are Shower Columns?
Shower columns are cutting-edge bathroom accessories made to improve the showering experience. These vertical installations often comprise several connected parts that work together to create a unified, streamlined entity that combines form and function. A standard shower column includes a vertical panel attached to a showerhead, a handheld shower wand, and frequently many body spray nozzles. Shower columns' key benefit is its capacity to deliver a fully personalised, spa-like showering experience.
Showers may be made more relaxing and revitalising by allowing users to regulate the water flow, temperature, and stream direction. In addition, shower columns frequently have contemporary design elements like touchscreen controls, LED lighting, and different finishes to match the aesthetics of a bathroom. They are a popular option for anyone looking to update their shower arrangement to something opulent and modern.
How Do You Choose Your Shower Column?
Selecting the components that compose the shower column holds significant importance. Factors such as the type of mixer, the size of the overhead showerhead, the quantity of hand shower jets, and the material of the hose are all critical considerations that influence both comfort levels and overall cost.
Shower columns offer more than just cleanliness; they introduce a sense of well-being and relaxation right in the comfort of your home. Through hydrotherapy, they help tone muscles, promote blood circulation, and alleviate stress, thus positively contributing to enhanced health and overall quality of life.
The attributes of a shower column extend far beyond those of a traditional shower setup. They encompass a range of features, including an overhead sprayer, a handheld shower, multiple jets, and various water outlets, providing a multifaceted and enriching shower experience.
Did you know that choosing the ideal shower column in your bathroom space can help to improve your showering experience? Here are some factors to consider to make an informed choice when selecting a shower column.
1. Space and Installation: To find the best shower column that fits ideally in your shower area, it is essential to measure the space available carefully. Different columns are available for installation in other spaces, such as for corner installation or wall mounting.
2. Functionality: Decide what characteristics you desire in a shower column. Popular alternatives include showerheads, portable wands, body sprays, and even built-in steam generators. Think about the duties that are most crucial to you and your family.
3. Water Pressure: Make sure the water pressure in your home is adequate for the shower column you're thinking of using. A specific water pressure must be present for some types to operate at their best.
4. Material and Finish: Shower columns are available in various substances and coatings, including stainless steel, chrome, brushed nickel, and oil-rubbed bronze. Select a finish that blends well with your bathroom's decor and is simple to keep clean.
5. Style and Design: Take into account the overall design of your bathroom. Shower columns can be elegant and contemporary or ornate and historic. Choose one that complements the design of your bathroom.
6. Ease of Use: Try to find a shower column with simple controls. Your everyday shower can be more convenient with features like thermostatic valves for temperature control, simple-to-adjust knobs, or digital displays.
7. Durability: Spend your money on a premium shower column of sturdy materials. Solid brass and stainless steel are renowned for their durability and corrosive resistance.
Considering these factors, you can choose a shower column that meets your needs, fits your bathroom's style, and provides a satisfying and enjoyable shower experience. Remember to research different brands and models to make an informed decision.
Conclusion
Lastly, the shower column incorporates diverse integrated jets or water outlets, allowing for flexible adjustments to create a broad or pinpointed massage effect.
Attempting to cut costs at any expense is not recommended; the superior quality and advantages offered will outweigh the initial investment. Shower columns are synonymous with numerous health benefits, delightful sensations, and profound moments of relaxation. Don't deny yourself the pleasure they can bring.