Spacious Living: 7 Tips on Achieving a Cozy Home
4 min read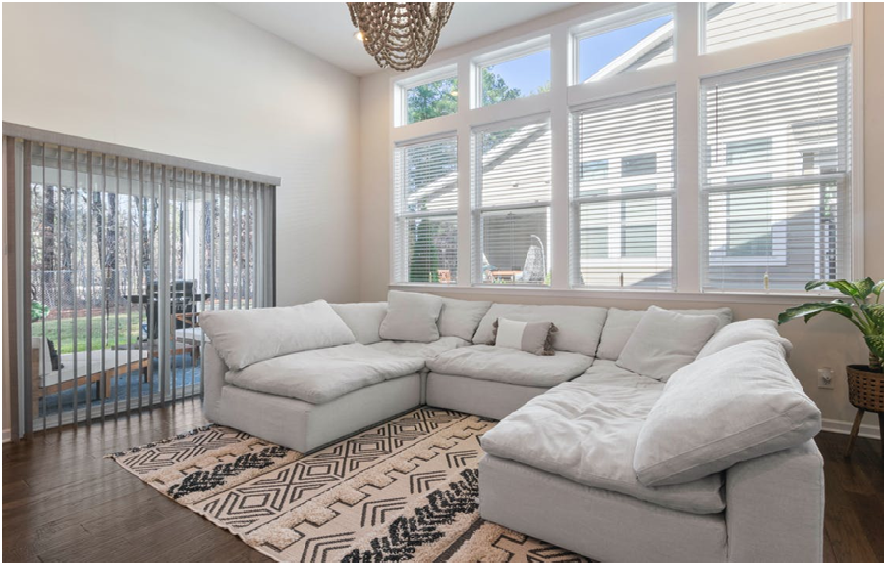 A home is not merely a space inside four walls and a roof overhead. It is an environment that enables you to be comfortable, warm, and relaxed. Having a home with a welcoming ambiance and creating an atmosphere of tranquility can be achieved without much sweat. Listed below are the simple yet effective guides on having a spacious living.
1. Use lighter color shades
Choosing darker shades on your walls and ceiling makes your room appear smaller and poorly lit. Opting for lighter paint colors will make your space look brighter and enhance the effect of natural lights, allowing proper illumination. It will give an optical illusion of achieving a larger and cozier room that allows a breezier feeling compared to what darker shades of wall colors depict.
According to Maid Sailors (Austin Maid Service) – accentuating your walls can also make your room appear huge. It creates a decorative vibe that will add color to prevent dullness but will not overdo the overall beauty of your space. It amplifies your area to a more stylish look.
Choose soft tones like off-white, neutral shades, and blue and green on your walls and ceilings for the best results. To create more style, paint your wall trims and moldings shades lighter than your walls. Using a different tone with a lighter shade will give an illusion that your walls are farther than your wall trims and moldings, thus, achieving a bigger room look.
2. The magic of mirrors
Mirrors are powerful home decorations that will make your room appear more prominent – if placed in the right spot and the correct size. Go for a giant mirror that reflects more space in the room and tricks your eye into creating a more prominent image instead of having many small ones. A cherry on the top, mirrors are also excellent in adding light and brightness to your room as the natural light entering your room will bounce in the mirror, allowing more lighted space.
While a mirror is a good accent, be careful about where to place it, ensuring that it is in a proper position in your wall where it can serve best to create a bigger space.
3. Ditch the drapes or rugs
Drapes and heavy curtains make your house feel more cluttered, and it obstructs the natural light from the outside. To create a minimalist look that will preserve your privacy, shutters, lightweight mesh, and cloth blinds are good options. If you are a pro-curtain type, choose longer curtain rods that extend beyond your window frame, allowing the curtains to move farther and make room for natural light to enter.
While rugs are essential to the home to maintain the cleanliness of floors, check on other alternatives instead of using typical rugs. If you cannot ditch rugs, opt to use fewer rugs, putting them only on the necessary spots. Also, choose uniform colors and minimal designs to add simplicity.
4. Invest in good storage
Organize your things in investment-worthy storage cabinets. Vertically made storage cabinets are more functional in maximizing the space where big and small clutters can be kept out of sight. A cleaner room echoes a bigger space, even in a small living space.
5. Be Resourceful
If you have limited space and are not keen on spending a few more on a new compact cabinet, use your existing resources to save more space and organize. For instance, chairs can serve as a side table, and installing wall sconces can be a valuable part of your room to organize things. You may also want to accentuate these items by painting them using cheerful colors, like turquoise, which best creates a happy and stylish mood, regardless of whether the space is small.
6. Cut the clutter
Yes, this is very worthy of key advice! Cutting the clutter in your space allows for more room to move around. Conclusion: there is no cozier home than having a tidy and organized space. Having too much stuff everywhere makes your room feel cramped, making movements limited. Minimizing your clutter allows for a tranquil home.
The same goes for your walls, which should be as simple as possible. Avoid exaggerating on wall frames. One large wall frame should be enough to create elegance.
Also, do not forget to keep your floors as clean as possible. Choose a smaller rug instead of a bigger one to expose more floors.
7. Clear pathway
Lastly, try to remove obstructions on your pathway. Especially in smaller rooms, maximize your space by putting all your furniture and other room pieces on corners and beside the walls. This way, it protects you from possible accidents and bumps into things while creating a larger space to move around unhindered freely. To further organize, you may want to group your items according to use and place them collectively on one side of the room.